BY ISABELLA ANDERSON
A quality pair of jeans is one of those crucial wardrobe must-haves for every modern man: classic, effortless, eternally cool. Traversing all social and economic divides and the ultimate go-to on casual Friday, it pays to give a little consideration to these hard-working guys. To guide you in your search for the next ultimate pair, we've put together a denim encyclopaedia, complete with styles, types and care how-to's.
Related: How to Wear Men's Skinny Jeans
What Style of Jeans Should I Wear?
Unfortunately, the immense popularity of denim doesn't make it any easier to find the perfect pair — in fact, the crowded landscape can make it rather difficult to see the wood for the trees. For starters, understanding fit and cut is essential to help discern what is best suited to your body type. Ideally comfortable without impinging on style and silhouette, denim should always mould to your body and show traces of individual style. Here is our run-down on the main cuts to consider.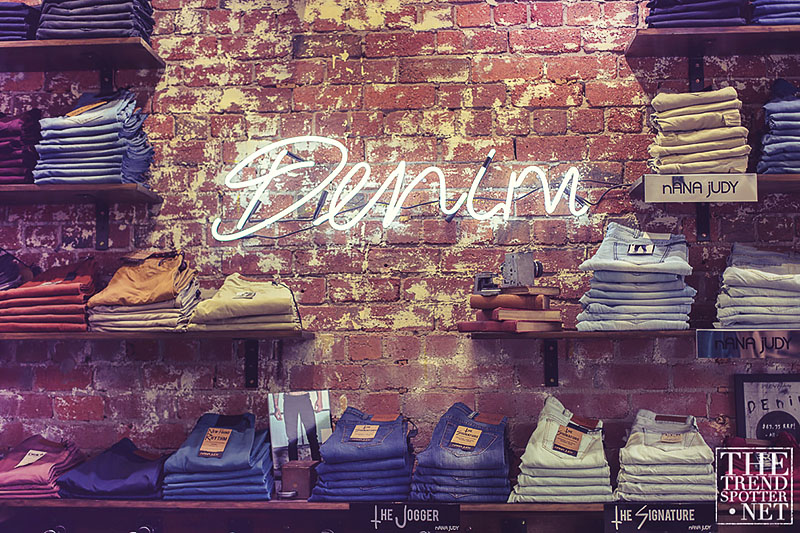 Slim Leg Jeans
Possibly the most versatile fit, the slim leg jeans is flattering on heavier thighs as the tapered ankle works to elongate and slim the silhouette. It's also recommended to err on the side of a true fit when buying slim leg jeans, a snug waistband fit being paramount to guarantee long-term comfort when you start to experience some stretch in the fabric.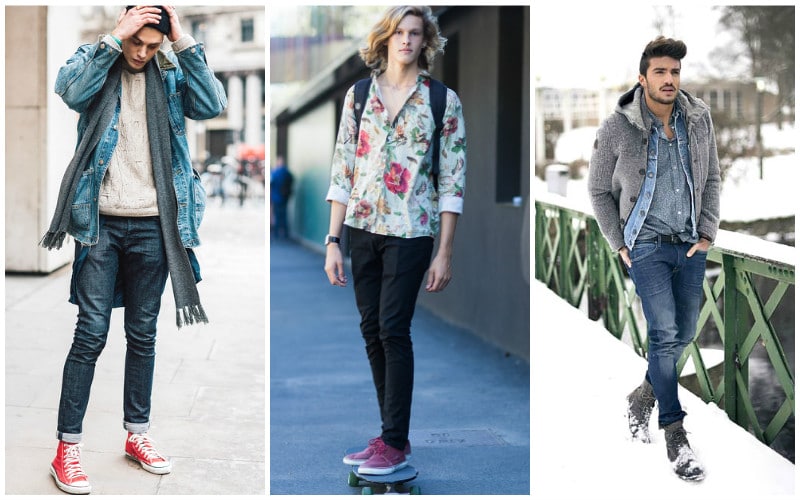 Recommended Products
Skinny Fit Jeans
Narrowly-cut and close fitting with a healthy amount of stretch, skinny fit jeans are best suited to lithe model types with slim legs and height. No matter your build, skinny fit jeans should never be completely skin tight – we are going for rockstar look here, not body paint.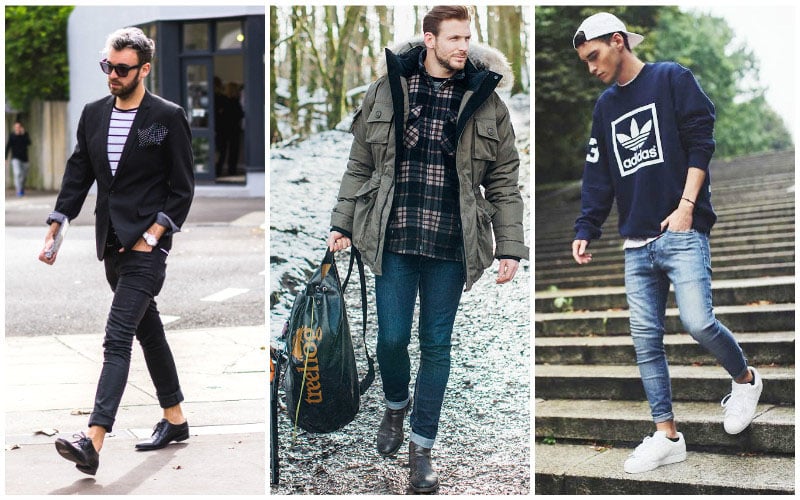 Recommended Products
Straight Leg Jeans
Essentially the OG of denim, the straight leg is a traditional, All-American classic. Most often cut straight from hips down the legs with little tapering, straight leg jeans look best on athletic guys — a generous shoulder-to-hip ratio working to counteract the bagginess of the cut. In casual settings slim gents can also pull off the straight leg, albeit in more of a casual, bohemian sense.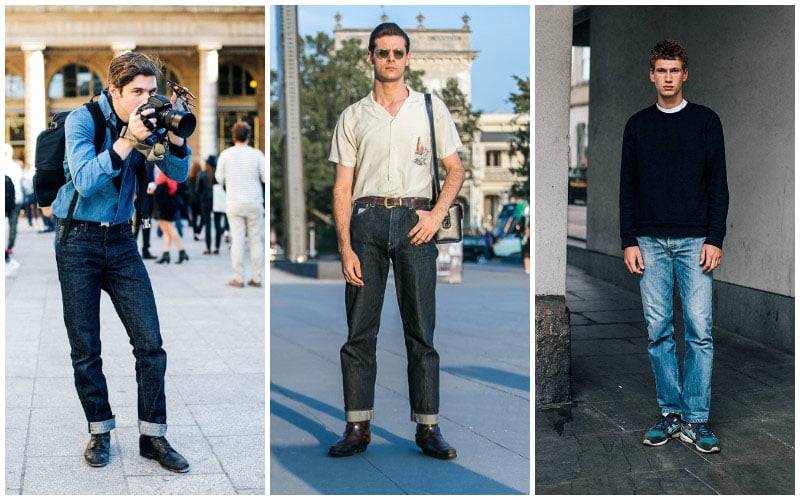 Recommended Products
Tapered Jeans
For a softer take on the straight leg cut, tapered jeans do just what the name suggests: skirting the line between slim leg and straight leg jeans. A slight taper is what you're after here, skimming the leg and fitting especially around the thighs and calves. More flattering than the skinny fit, but more sculpted than the straight leg, tapered leg jeans achieve a 'footballer' aesthetic with a comfortable seat and streamlined calves and ankles.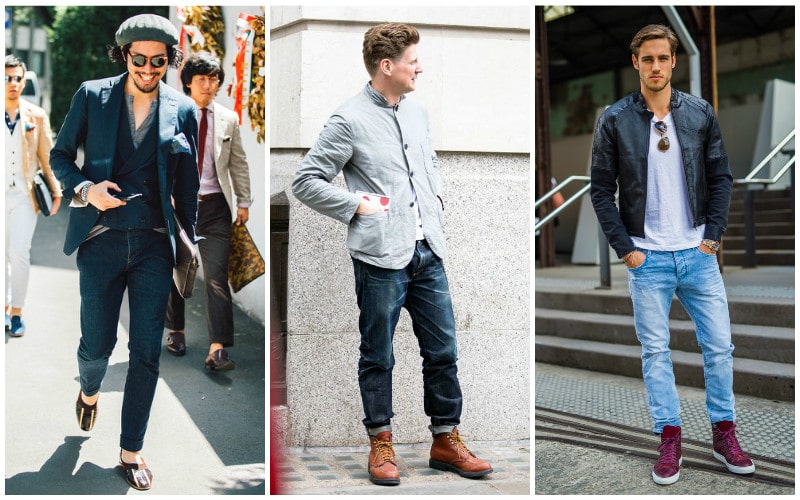 Recommended Products
Types of Denim
In addition to cut, one must consider the type of denim suited to you. From waxed styles to heavier selvedge and eye-catching acid wash, there are many different ways denim can be treated and a discerning gent will have more than one type in his repertoire. From high-fashion looks to denim that can take you from work to the bar, fabric and rinse are real considerations depending on your lifestyle and existing wardrobe.
Selvedge
Adopted by the fashion elite as an authentic and high calibre alternative to classic stonewashed denim, selvedge or raw denim, is heavier, firmer and darker in hue than regular denim. Featuring a unique edge at the hem that prevents the fabric from unravelling during production, modern selvedge denim is still produced the way it was in the early 1800's: woven on a traditional shuttle loom. For this reason, it is considered a higher quality denim to mainstream stonewash, as the product of an exclusive and storied manufacture process. With an appealing crisp aesthetic when new, once worn-in selvedge denim takes on a protagonist quality all of its own.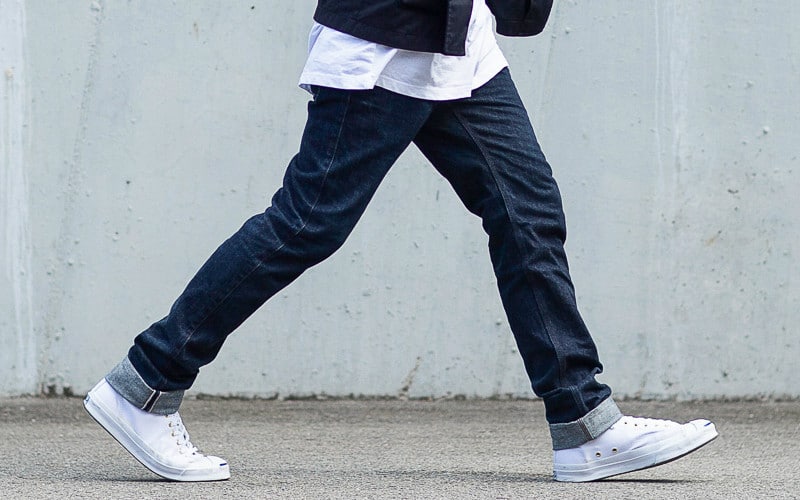 Stonewashed
A wardrobe staple for every modern gent, stonewashed denim is what immediately comes to mind when you think jeans. Stone washing produces a faded, worn appearance. This is accomplished by washing the jeans with pumice in a rotating drum or by using chemicals to create the look without the utilisation of a rotating drum. The beauty of the stonewashed look, and no doubt the reason for its ubiquity is its simplistic style.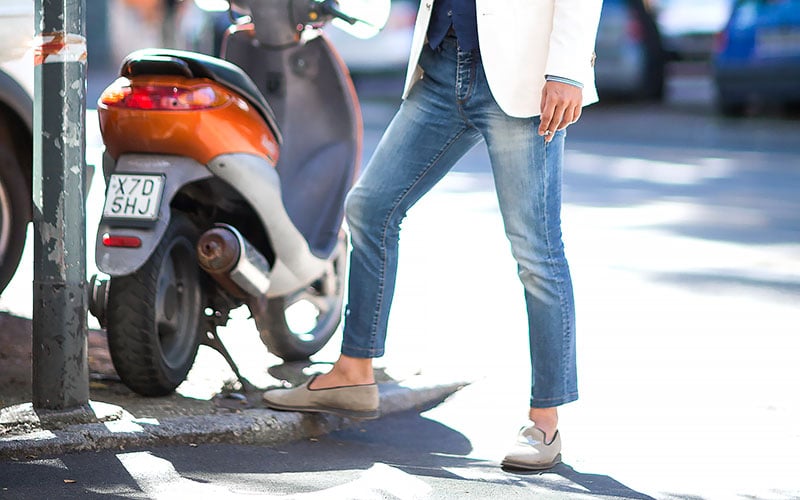 Acid Wash
Acid wash jeans have a mottled appearance which is achieved by chemically bleaching the denim with chlorine or 'acid' soaked pumice, bleaching parts of the fabric to white. With a 90's punk aesthetic, acid wash denim is a bold choice, especially in darker hues making a fresh appearance for summer months.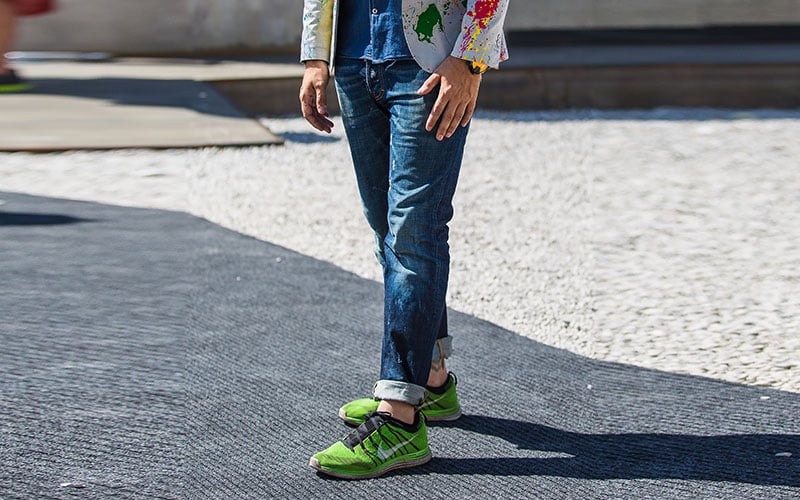 Waxed
Waxed jeans are denim coated with paint, beeswax, or a wax glaze to create a shiny finish. This process provides a subtle black sheen to the fabric which offers a sleek, debonair vibe creating a luxe leather feel without the weight or discomfort of leather trousers.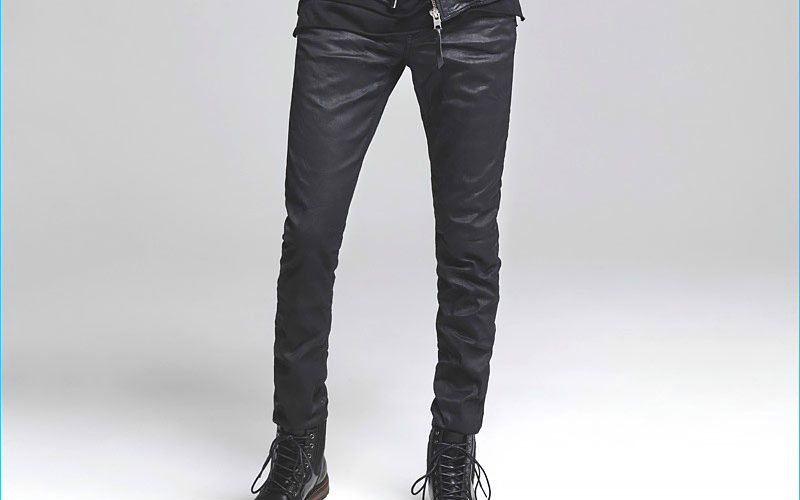 Denim Styling Tips
We think we speak for most men when we say that denim (especially jeans) are going to be the most versatile piece of clothing that we will ever own in our entire lives. They can practically be used anywhere – at home, during work, walking the dog – the possibilities are endless. That being said,  it is important to remember that there is a time and place for everything, including fashion. For example, while wearing overly baggy jeans can be appropriate for a backyard BBQ, it's practically forbidden for dates or a night out with friends. A similar notion even applies to double denim – although wearing the combination with the same colour scheme and fabric might be okay for a seven-year-old, it's undeniably a big no-no when you're older.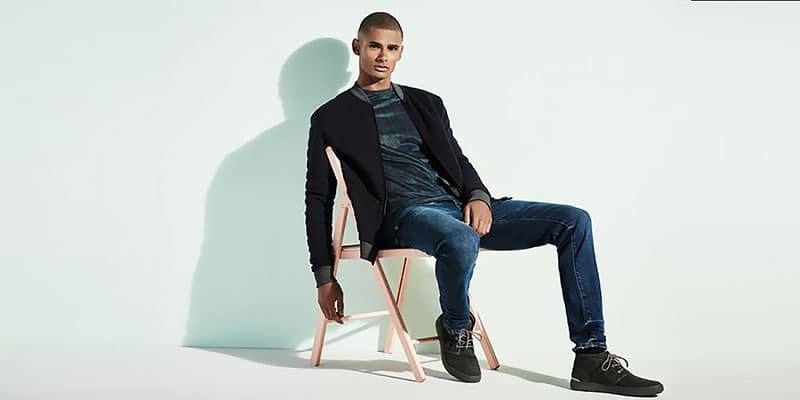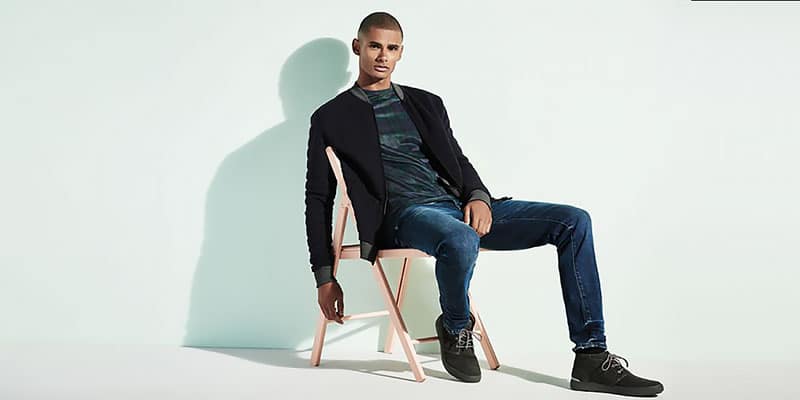 Occasion is the Key
One of the best characteristics of jeans is the fact that there are so many styles to choose from. However, it's all in the occasion. You need to pick jeans that will suit the kind of physical endurance you are going to pursue throughout the day. A formal event should reveal a more refined side of you, and your jeans should help complement that. Black and dark denim is highly recommended. Pair this with some nice dress shoes and you've got yourself a winning combination.
But on the other hand, if the occasion is something casual like grocery shopping or walking in the park, then it's the other way around with comfortable straight jeans being the preferred. Make sure it has deep pockets for essentials such as wallets, phones and keys, and always test out how well you can move in them. It's nice to accompany it with a different coloured belt because not only will it show how versatile the jeans are with colour combinations, but it ensures that they won't accidentally drop down in public which is always a plus!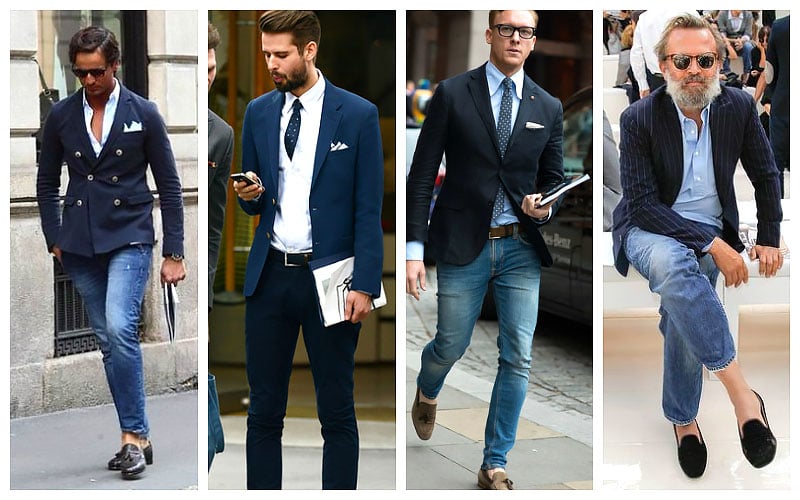 Double Denim
The monochrome look is slowly fading, and the easiest way to pull off the double denim look is by having two different colour schemes that contrast each other. A common combination is a black jacket and blue washed out jeans or vice versa. Contrasting denim is now even easier to do since pastel coloured jeans are becoming an increasingly popular trend in the market.
In order to execute this properly, it is vital that whatever you wear underneath gives out a pop of colour. White is always a safe choice, but a grey, emerald, or cerulean shirt or t-shirt would be a much better option. Other colours to consider could be yellow, orange, purple and limeade just to name a few. This can even be applied to the colour of your shoes and other accessories (eg: gloves, scarves etc.) for further colour scheme balance.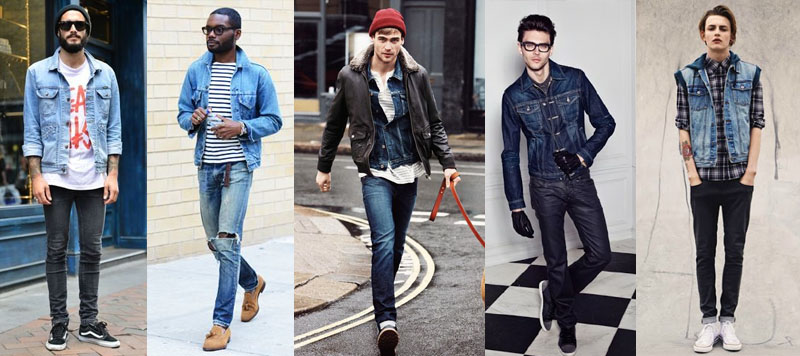 Best Men's Jeans Brands
Sometimes, it is where you shop that makes the world of difference. Invest in good denim, because it will last and you will get much wear out of it. These brands are failsafe options for your next denim purchase.
How to Clean Your Jeans
The frequency with which you wash your jeans directly impacts the amount of indigo that leaches out of them and how much they lose their shape over time. With raw denim especially, wear often and wash sparingly.
If it has been a few weeks of constant wear, or you've had a significant stain, turn your jeans inside out and wash with jeans of a similar shade to stop pigment bleeding.
If using a machine, wash on cold (or lukewarm if especially dirty), with a quality detergent.
Alternatively, you can wash your jeans in the bath. Leave them to soak, inside-out, in a few inches of cold water for 45 minutes.
Tumble dry your denim only if you want to shrink them. Instead, hang them out to air dry – ideally upside down in the sun.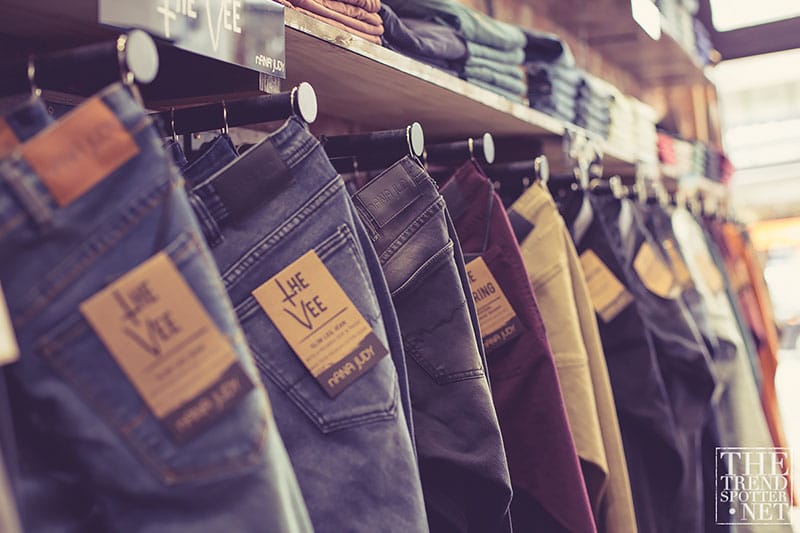 How to Shrink Jeans
Run your jeans through the normal cycle on cold, without detergent or fabric softener.
Put your jeans through the spin cycle for at least ten minutes after the main wash.
Transfer to the dryer, and let tumble dry on a low heat until jeans are dry, ideally in 30-minute bursts to avoid over-shrinking.
An arguably less-risky approach to shrinking denim is to do so in the bath. Put on your new jeans and sit in a tub of hot water (as hot as you can stand), until water has cooled.
Once water is tepid, hop out and leave your jeans on until dry. This is best to do in the summertime, an hour or two in the backyard should do the trick.
This technique is fool-proof, as you are effectively shrinking your jeans to your own form –  a canny way to avoid over-shrinking the waistband, which can be difficult to reverse.
How to Stretch Jeans
Wash your jeans as you usually would in the machine or soak them in the tub.
Wring them out, and start to stretch your jeans in the areas that are too tight with your hands while the denim is still damp – around the waistband and cuffs are common areas.
To lengthen your jeans grab a friend and have them hold the waistband while you pull as hard as you can on the hems. Air dry as normal.
Lie down on your bed and squeeze yourself into those jeans. Most pre-washed or sanforized jeans will stretch by at least a half size with frequent wear, so if your can wriggle your way into them lying down they will most likely be a perfect fit in a few weeks time.
To speed up the process at home, slip a deodorant into your waistband and do some squats to stretch out the denim around your waist.
Iron your jeans on warm with steam to loosen the fibres and prepare them for stretching. Throw them on while they're still warm and sit cross-legged for an hour or so – this position will encourage stretching around the waist, rear and knee areas.
As a general rule with form-fitting jeans, you should avoid tumble drying – as hot air and water have a shrinking effect on cotton fibres.
If your jeans are too tight to pull on even when lying down, then the stretching methods described here will not be enough to achieve a comfortable fit. A final solution might be to take your jeans to a tailor who can add a panel of denim to your waistband to enlarge the circumference or invest in a new pair.